BEST DIGITAL MARKETING
FOR HEALTHCARE INDUSTRY
Digiinovix Provides Specialized & Customized Marketing Solutions for Your Healthcare Brand
In today's times where people heavily rely on the internet for every small information – establishing a strong online presence for your healthcare services should be the top-most priority. This is where Digiinovix's digital marketing for healthcare industry comes in. Long gone are the days when patients would seek out healthcare facilities through word-of-mouth recommendations alone. 
Since everything is available online now, patients search for medical care through the internet as well.
Google has revealed that over 70,000 healthcare searches are made EVERY MINUTE! Digital marketing for healthcare industry and services is the need of the hour as it would reveal an array of opportunities for new engagements with healthcare seekers online. Digiinovix will help you throughout your digital marketing journey.
WHY YOU SHOULD CONSIDER DIGITAL MARKETING FOR HEALTHCARE INDUSTRY?
Over 68% of patients say they're more likely to choose a medical provider that offers the ability to book, change, or cancel appointments online.

45% of consumers said information they found via social media would affect their decisions to seek a second opinion.

42% of healthcare seekers have used social media for health-related consumer reviews, such as those of treatments or physicians.

3 out of 4 people have searched online to find out about a doctor, a dentist, or medical care, according to online research. Over 60% do so either sometimes or often.

Around 68% individuals search for medical information online.
These numbers are enough to convince anyone as to why digital marketing for healthcare industry should be embraced by healthcare providers, be it hospitals or private practitioners, and how it can certainly skyrocket their growth.
HOW CAN DIGIINOVIX HELP YOU WITH DIGITAL MARKETING FOR HEALTHCARE INDUSTRY?
Most healthcare service providers, be it private or public, shy away from digital marketing as it is a time-consuming, extensively tech-oriented, and continuous process. Doctors or hospitals often don't have the resources and knowledge to undertake such a vast task. This is where established and reputed digital marketers like Digiinovix can help.
We provide unique strategies and tailor-made solutions that cater to the needs of our clients. Digital marketing for healthcare industry requires a lot of attention and tactical marketing to result in a successful conversion. Our team of highly competing and experienced digital marketers work untiringly to help your healthcare brand grow and shine.
Trust Digiinovix to elevate your brand to great heights through effective online marketing.
HEALTHCARE FACILITIES THAT WE MARKET FOR...
We market for almost all specialties and healthcare facilities out there. Be it private clinics or big reputed hospitals to even sole practitioners who own their chambers – Digiinovix provides digital marketing services for everyone.
Our versatile marketing solutions cover each and every aspect of digital marketing for healthcare industry and we successfully strategize unique marketing plans according to our clients' individualistic needs.
Digiinovix's unparalleled experience in the new generation digital marketing for healthcare industry field enables us to deliver the best results that will elevate your brand to a brand new level. If you are a healthcare professional and would like a digital marketing consultation, contact us any time!
SERVICES WE PROVIDE IN DIGITAL MARKETING FOR HEALTHCARE INDUSTRY

Best Medical & Healthcare Marketing Services
Establish an Unbeatable Online Presence for Your Healthcare Brand with Digiinovix
BENEFITS OF DIGITAL MARKETING FOR HEALTHCARE INDUSTRY
Increased reach and visibility: Allows you to reach a wider audience of potential patients than traditional marketing methods.
Targeted marketing: Helps you to target your marketing messages to specific audiences based on their demographics, interests, and other factors.
Cost-effectiveness: Can be a very cost-effective way to promote your healthcare business, especially compared to traditional marketing methods like print and television advertising.
Measurable results: Enables you to track the results of your campaigns and measure their effectiveness.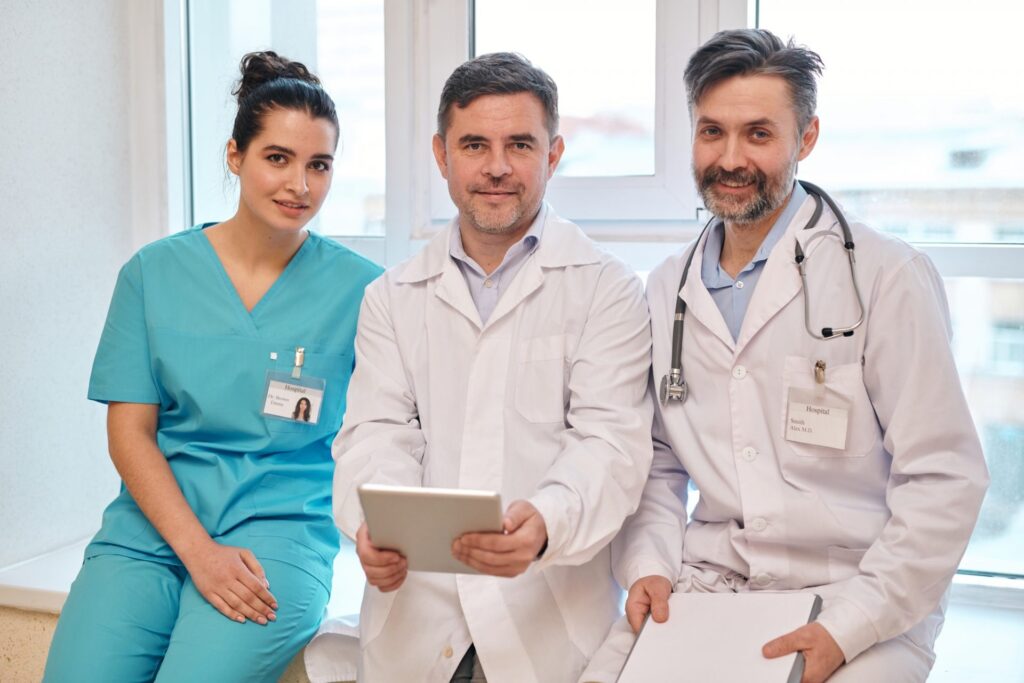 FAQs (Frequently Asked Questions)
What is Digital Marketing for Healthcare Industry?
Digital marketing for the healthcare industry is the use of online channels and technologies to promote healthcare services and products to patients and other stakeholders.  It can be used to increase brand awareness, generate leads, and drive sales.
In a nutshell, Digital marketing for healthcare industry is the online bridge between patients and providers.
Marketing digitally or online can be a very effective way for healthcare businesses to reach their target audience, generate leads, and drive sales. However, it is important to develop a comprehensive digital marketing strategy that is tailored to the specific needs of the healthcare business.
How can healthcare businesses measure the results of their digital marketing campaigns?
There are several ways to measure the results of digital marketing campaigns, including tracking website traffic, leads, and conversions. You can also use social media analytics tools to track engagement and reach on social media. Additionally, you can conduct surveys and interviews with patients to get their feedback on your marketing campaigns.
A good digital marketing strategy will eventually reflect on your conversion rates from the website. Digiinovix ensures that each marketing campaign launched by us brings in a high ROI factor.
How to use PPC advertising to promote digital marketing for healthcare industry?
PPC advertising stands for pay-per-click advertising, and it is a type of online advertising where you pay each time someone clicks on your ad. PPC advertising can be a great way to drive traffic to your website and generate leads. However, it is important to carefully target your ads and to set a budget to avoid overspending.
We, at Digiinovix, take care of all these aspects for you, so that you can rest freely while your ad generates revenue for the brand. We curate Display and Search Ads for your brand, launch successful Ad campaigns on effective channels and analyses the market response to it.
What are the most effective channels in digital marketing for healthcare industry?
The most effective digital marketing channels for healthcare businesses will vary depending on their specific goals and target audience.
However, some popular channels include:
Search engine optimization (SEO)
Pay-per-click (PPC) advertising
Social media marketing
Content marketing
Email marketing
At Digiinovix, we work closely with all these channels for an all-rounded digital marketing for healthcare industry – keeping your unique brand values in mind. Our experts will see to it that constructive strategies for marketing through each of these channels are ensued.
How using SEO can improve the digital marketing of your healthcare business?
Application of SEO in digital marketing for healthcare industry cannot be substituted. It can help to improve your website's ranking in SERPs by optimizing your website content for relevant keywords, building backlinks to your website, and improving your website's user experience.
Here are some specific ways that SEO can improve your healthcare website's ranking in SERPs:
SEO will make your website more visible to potential patients. When a user searches for a healthcare-related keyword or phrase, such as "dentist in San Francisco" or "pediatrician in Los Angeles," your website is more likely to appear in the SERPs if it is optimized for those keywords.
An effective SEO can help to drive traffic to your healthcare website. When your website is ranked higher in SERPs, it is more likely to be seen by potential patients. This can lead to increased traffic to your website, more leads, and more appointments.
SEO will improve your healthcare website's reputation. A website that is ranked higher in SERPs is often perceived as being more authoritative and trustworthy. This can lead to a better reputation for your healthcare business and encourage more patients to choose your services.
Overall, SEO is an important part of any healthcare marketing strategy.
Digiinovix ensures that by optimizing your website for SEO, we can improve its ranking in SERPs, drive traffic to your website, and generate more leads and appointments.
How can businesses comply with HIPAA regulations when using digital marketing for healthcare industry?
Healthcare businesses must comply with HIPAA regulations when using digital marketing to protect the privacy of their patients' health information.
Some tips for complying with HIPAA in digital marketing include:
Only collect and use patient information that is necessary for the purpose of your marketing activities. Avoid divulging sensitive information on the internet, including patient's pictures or case history.
Obtain patients' consent before collecting or using their information for reviews or case studies.
Implement appropriate data security measures to protect patient information.
Train your staff on HIPAA compliance.
We Offer Only the Best Digital Marketing for Healthcare Industry at Digiinovix